Marketing a brand is hard work. You often have multiple campaigns running, lots of changing deadlines and projects that are competing for your attention.
With this, time becomes very valuable. It's easy to see why one might examine how they could optimize their time and figure out how to manage campaigns more effectively, freeing up some time to devote to other projects.
Can Images & Videos Coexist?
One of the first things many examine is the question of whether still image ads perform as well as video ads. Why, you ask? It's undoubtedly easier and quicker to create still image ads on Facebook than video ads.
5% of people watch more than an hour of Facebook or YouTube videos a week
Click To Tweet
You can create an entire image ad in a matter of minutes, where video ads require planning, shooting and editing and then the actual exercise of placing the ad — unless you use Vedia's Ad Generator, allowing you to create videos in seconds.
Because of this, a large majority of Facebook advertisers stick to image ads. It's understandable wanting to save time, but do still image ads work just as well as a video ad? The short answer is no, they do not.
Video is on the rise — According to Wordstream, 45% of people watch more than an hour of Facebook or YouTube videos a week. As we become more and more of a video consuming society, the divide in engagement and ROI on video-based ads compared to still image ads is going to increase even further.
Everything To Know About Youtube Marketing — For People in a Hurry
With that in mind, today we want to share 5 reasons why Facebook video ads are better than still image ads.
Videos Allow You To Disseminate Much More Information Than Still Image Ads
Running a video ad gives you one supreme advantage you cannot pull off with image ads. Specifically, you can convey a great deal more information in the ad quickly that your potential customers can easily absorb. This is a very important advantage.
If you, for instance, run a still image ad but put tons of ad copy in it to try and convey everything you want to get across, you run the risk of losing the audience and having them simply move on.
Here's a deeper dive by Youtuber, Jason Wardrop about Facebook Video and Still Image ads.
With a video ad though, it's much easier to convey a lot of information to prospects that they will pay attention to. You can give them answers to the things they'll need to know to make an informed purchase decision.
For instance, what your value proposition is, results others have had using your product/service, what your product/service's price is, how one can sign up for/purchase your offering, etc.
It's much more effective to include this type of information in Facebook video ads rather than hope your prospects will take the time to read all that information in the copy of an image ad.
Video Ads Get More Engagement
We're sure this is of no surprise to you, but it's true and worth noting. Video ads get noticed by your prospects more than still image ads.
When your prospects are scrolling down their Facebook wall, you have a lot of competition and the movement of video gives you an edge to grab their attention and get them to stop.
12 Video Marketing Statistics That'll Make You Invest in Video
Still images aren't as good at this and the chances are higher that your prospect won't notice your ad and therefore not stop on it and absorb your message.
When a prospect stops on your ad, it has more impact. That impact builds your brand awareness, gets them to engage with the ad and ultimately enter your sales funnel.
Video Ads Build Trust
People want to buy things from brands they know, like and trust. Because of this, successful brands use their campaigns to educate their audience about what they do, show their unique personality, their product's advantages and their brand's expertise in the space.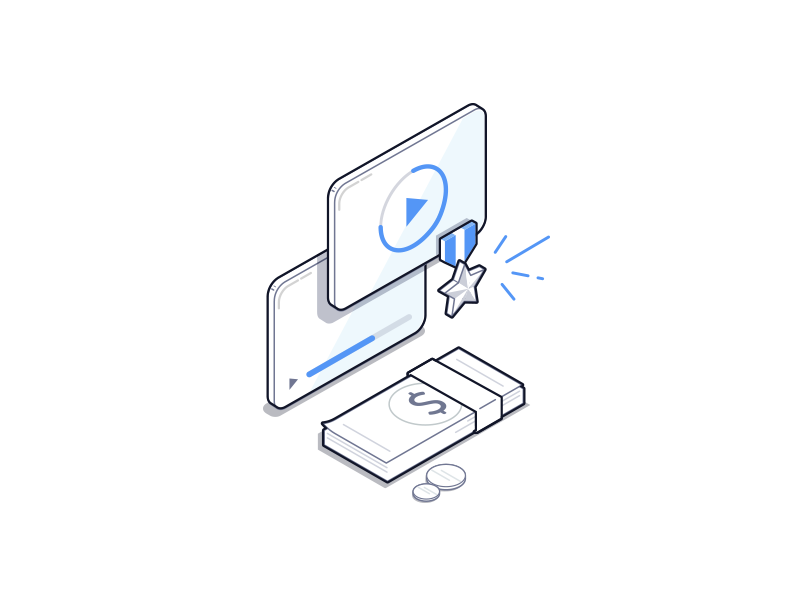 Video is an exponentially better vehicle to do this compared to still image ads. It allows you to build more authentic connections in a much shorter period of time.
When your prospects feel like they know you, they are more likely to work with you and they'll be willing to pay higher prices for your products and services.
Video Ads Allow You To Establish Yourself As A Thought Leader
Aside from knowing and liking you, people want to do business with brands they see as the thought leaders in their space.
While it's true you can use a still image ad and tell them how great you are, video ads are much more effective at establishing you in the thought leadership position.
The reason video is such a better vehicle to achieve this is because rather than telling a prospect how great you are, you can show them.
Here's a quick video on Forbes, featuring Dorie Clark, a thought-leader that specializes in marketing and strategy. 
For instance, use your video ad to educate your prospects by showing them how to solve a problem they are likely facing. You are giving them value, with no expectation of anything in return and it shows you are knowledgeable. This is a great way to build goodwill and convince prospects to do business with you.
Video Can Help You Stand Out From Your Competition
No matter what industry you are in, you are likely in heavy competition with other brands in your space that are vying for the same customers you are.
So one of the key things your prospective customers want to know is what makes you different from "the other guys" that are also trying to get their business?
Because of this, differentiating yourself from your competition is critical to your success. As we mentioned at the beginning of this article, video campaigns take longer to create and deploy.
As a result, many of your competitors are most likely skipping them, in favor of the easier to run still image ads and their shortcut is your opportunity.
By creating high-quality video ads, you will significantly differentiate your brand from your competitors.
Get Ahead Now Or Fall Behind In The Long Run
As we mentioned, people are consuming more and more video content every day.
Taking advantage of this growing trend and putting your stake in the ground before the rest of your competition starts focusing on video marketing is key to you growing your brand, gaining distance from your competition and establishing yourself as the thought leader in your industry.
How Have You Used Both Images And Video Ads?
Both images and video ads, if executed well, can coexist in the same platform and generate high-quality leads. We'd love to know how you are using video and image ads in your marketing strategy and provide types on how to maximize your efforts. Leave some comments in the section below and we'll give some tips and suggestions!