Nothing is better than business growth. As you grow, you are inevitably going to need to grow your team.
While the hiring process is very important, how you onboard new employees is a critical first impression your new employee will have of your company and ultimately will set the tone for their future and their success.
If your business has been experiencing rapid growth, part of the challenge of bringing on new employees is finding the time to onboard them as quickly as possible to get them working and helping take on the backlog of work that needs to be done. When facing this challenge, efficiency is everything.
Creating Personalized Video for New Hires
When we talk about personalized video, we often talk about it when it comes to marketing, sales, and customer experience.
How Focusing On Customer Experience Brings in More Customers
One little known use for personalized video that is tremendously underused is during the employee onboarding process.
Personalized video is the perfect tool to enhance any employee onboarding process. Today we will talk about some key benefits to utilizing personalized video for employee onboarding.
Personalized Video Helps Reduce The Cost Of Employee Onboarding
Getting new employees trained and ramped up to start producing work for your company and cost up to 30 percent of their annual salary.
The reason companies are so willing to spend this large amount of money to onboard an employee is because it's proven that a smooth, comprehensive onboarding strategy will reduce employee turnover and increase new employee success.
Using personalized video, you can create onboarding sequences specific to new hires in multiple business units.
Here's an example of Starbucks employee onboarding video for interns:
Want to show off the culture some? A good example is Canva's Culture video that is publicly displayed on their career site and on Youtube. Check it out:
Having these specific videos created does take a little bit of upfront work, but once you have them in place, your new employee onboarding process is able to scale cost-effectively.
You can reduce the need for managers and trainers to spend time repeating onboarding exercises that cut into their day to day work and reduces their productivity.
This longterm will reduce the expense of training each new hire.
Personalized Onboarding Videos Help New Employees Retain More Information
Most new employees spend their first days and even weeks drinking from a firehose of information. There is so much to learn.
There are product demos, job responsibilities, benefits options, team introductions, executive welcomes, company policies, and more.
It's an overwhelming amount of information, and the reality is that most new hires won't remember much more than the basics. It's easy to understand why this could happen.
Video onboarding as part of your regular onboarding process gives new hires a resource that they can always return to should they ever have a question and need to re-examine any of the information they were given.
This empowerment they have at their fingertips is also a benefit to your existing managers and employees as they won't lose productivity repeating things that were covered in initial onboarding activities.
Institute Consistent Onboarding Practices Across Your Organization
If you have more than one business location, it is easy to see how having distributed teams could lead to new hires in different locations, even if they are part of the same business unit, could end up being onboarded in completely different ways.
A video onboarding strategy can promote uniformity into the onboarding process, making your new hires exponentially more plugged into their business unit and more effective, sooner rather than later.
Onboarding Videos Are A Great Way To Introduce The Key Players
Anytime a new employee comes on board there are tons of people they need to meet.
The faster they meet the key people in their particular team or department, the more comfortable they will feel and the more productive they will be.  Video is a great first step in familiarizing a new hire with the team and promoting team building.
In a perfect world, a new hire would personally meet every member of their new team. The reality though, especially when you consider a distributed team working model is that this isn't always possible.
Comcast did something similar to introduce new hires to the key players in their Philadelphia office:
Personalized videos that introduce new hires to the key players on their team will help them easily get acquainted with everyone. This works both ways too.
Your new hires can create a short introduction video about themselves during the onboarding process. By uploading that video into your video library, your existing team can search for new employees, watch the videos and get to know the new members of their team.
Personalized Video Onboarding Makes Job-Specific Process Training Easier
As employees go through the onboarding process, they will quickly get through the "basic" information that all employees need to know about organizational policies, practices, etc. What about their job-specific processes? Personalized Video Onboarding is perfect for this.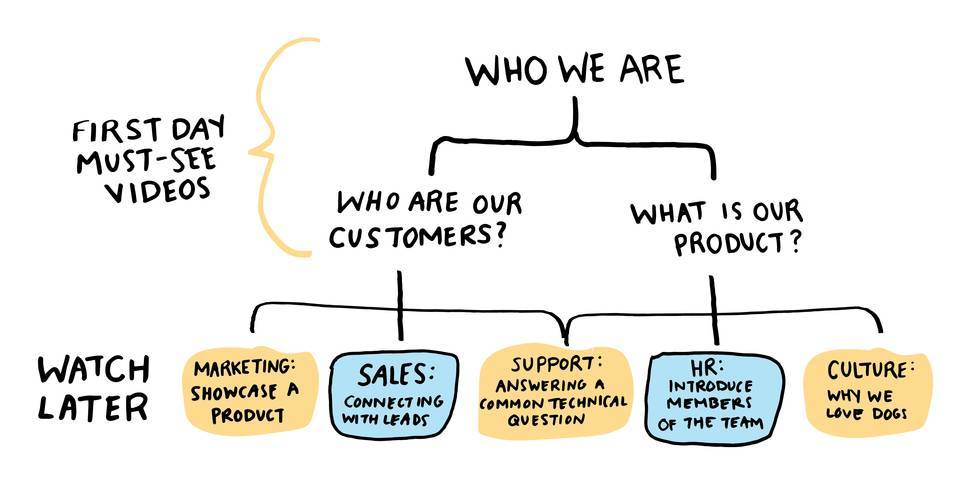 With personalized video, you can develop an onboarding program customized to the needs of individual teams and job roles.
Personalized video playlists provide a learning path that new hires can follow over their first few weeks to months.
You can also include ongoing "snackable" videos that all employees in a particular team can use as continuing education to ensure they are always following best practices and remaining as productive as possible.
Personalized Onboarding Videos Are Not As Difficult To Create As They Sound
As illustrated above, there are many benefits your business will gain by having a solid personalized video onboarding process.
But how do you actually pull it all together? With personalization comes extra labor.
You can use Vedia and plug employees' data, internal docs,  and more to create a personalized video for employees.
This is a great first start to establishing a solid personalized video onboarding process. Fill in the gaps with any topics or processes you see are missing and before you know it, you'll have a fully optimized, personal employee onboarding process that is more efficient than you ever imagined possible.
What Are You Currently Doing to Onboard New Employees at your Company?
A personalized onboarding isn't necessarily a novel concept. There are companies that have invested or created onboarding solutions that are similar, like PwC:
Here at Vedia, we are creating a video solution that will be able to help organizations create personalized videos to help organizations out with employee onboarding and retention.
Learn more by checking out Vedia today — and feel free to leave some comments below!